Servicing and MOT
Reliability and quality are a given with a V-A-G vehicle, but to keep your Audi, VW, Seat or Skoda in optimum condition it is good practice that it is serviced in-line with the correct schedules. This ensures that the wear & tear of mechanical components are kept to a minimum and allows for regular inspection of the systems that make up your vehicle.
One stop solution for your servicing needs inc special service items like haldex oil/fiter changes, DSG and Multitronic servicing.

Only original equipment spec service parts, certified long-life engine oils and G13 coolant are used.

New and older models catered for, we can also service your VW commercial vehicles.

Warranty safe servicing, we follow the exacting guidelines set out by Audi, VW, Seat & Skoda to insure your warranty is unaffected.

We offer menu price servicing and our workshop hourly rate is £50+ vat for any work required there after (typically 50% cheaper that a main dealer labour rate). Free estimates are always given before any extra work is carried out.

Friendly local independent specialist, conveniently based 1.5 miles form town centre. Here you deal with the person who's working on your car, allowing for better flow on information about how your service work is progressing.

Free Collection & Delivery service available from with a 5 mile radius of Aylesbury town centre ( pick ups from further a field have a small charge).
Servicing a vehicle in warranty.
Is your car in warranty? Not sure if you want to take your car back to the dealer?
No problem.. Block exemption legislation in the motor trade came into effect in 2010. The resulting changes meant that owners of cars within a warranty period are free to use a repairer of their choice, providing that the chosen repairer follows the correct guidelines, thus you are no longer tied into using main dealers and the potentially expensive servicing and general repair work that comes with that.
Menu price service work.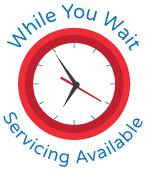 Below is an over view of the menu price service work we offer for the core V-A-Group vehicles. If you are not sure what is applicable for your vehicle, please give us a call.
All work is carried out using OE MANN or BOSCH service parts (original equipment)
Should there be any advisories or extra work required we will contact you before any extra work might be carried out.
ALL PRICES INC VAT
Annual Service For Petrol and Diesel upto 2 ltr
£119
Oil/filter change inc longlife oil
Lights/levels/tyre report
Full written inspection of vehicle components/systems (see link to inspection list above.)

Reset service indicator
Full diagnostic scan of vehicle ecu's
Full road test and service wash
Long-life Service For Petrol and Diesel upto 2 ltr
£139
Oil/filter change inc longlife oil
Pollen filter change
Lights/levels/tyre report
Full written inspection of vehicle components/systems (see link to inspection list above.)

Reset service indicator
Full diagnostic scan of vehicle ecu's
Full road test and service wash
Major Service For Diesel Models upto 2.0 tdi
£199
Oil/filter change using the relivant oil.
Air/pollen/fuel filter change

Lights/levels/tyre report
Free brake fluid change included
Full written inspection of vehicle components/systems. (see link to inspection list above.)

Reset service indicator
Full diagnostic scan of vehicle ecu's
Full road test and service wash
Major Service for Petrol Models upto 2.0
£219
Oil/filter change using the relivant oil.
Air/pollen/spark plug change
Lights/levels/tyre report
Free brake fluid change included

Full written inspection of vehicle components/systems (see link to inspection list above.)
Reset service indicator
Full diagnostic scan of vehicle ecu's
Full road test and service wash
Timing Belt Prices
1.9 tdi £245
2.0 tdi £290
2.0 cr tdi £339

2.0 fsi/tfsi £295
1.8 £289 inc tensioning damper

Waterpump (using pump with uprated impeller) and coolant change with any of the above.

Please not A4 and A6 have an extra charge of £50 due to the orientation of the engine resulting in the need to remove the front bumper to replace the timing belt
Miscellaneous Servicing Prices
Brake fluid change: £39.99
Haldex oil change: £54
Haldex oil and filter: £89

Coolant change inc a system flush and using G13 coolant: £49
DSG oil and filter change: £189